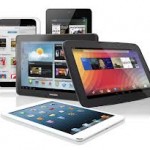 And so it comes down to these three tablets for you ? If you have used any of these tablets, chances are you have already made up your mind as to which one(s) you like and which one(s) you dislike. With our comparison, we will skip the specs and instead focus on the useful information such as apps, web access and other vital features.
Apps
Android currently boasts over 650,000 apps. Apple is inching towards the million mark and currently sits just south of the 900,000 mark. Kindle, on the other hand, has about 100,000 apps within their App Store. Being owners of both and users of all three devices, we have to give it to Apple for having the most robust and app store. Google doesn't fall too far behind and while Amazon has most of the main Android titles, they are missing all of the Google branded apps. Sorry but we are big fans of Google Maps and Goggles. In terms of apps, iPad Mini is the winner here.
Productivity
Chances are you're not planning to be too productive with a 7-inch tablet. However, if that sudden need to be productive ever comes up, you may want a tablet to help you feed this need. We'll get right to the point. Being productive on the Kindle Fire HD is out of the question. You're more likely to be more productive using a pencil and some paper. The iPad, while bad isn't as bad as the Kindle. We found quite a few apps that were useful such as QuickOffice, File Manager and a few others. The biggest problem is that the lack of a file system really limits your ability to be productive with the iPad Mini. You can't download files from the internet, other than music and photos. And you cannot transfer files from your computer to your phone with a cord.
On the other hand, Android, while not perfect, did a much better job of replicating our Windows based desktop productivity environment. You have a built in file manager and even better you can set defaults for apps and extensions unlike the iPad Mini or Kindle Fire HD
Media
Amazon, Apple and Google both have competing services. So far Amazon seems to be the one winning with their Amazon Prime subscription which rivals Netflix and Hulu. If you are more interested on keeping up with the latest episode of Pretty Little Liars than typing a word document than you should consider a Kindle Fire HD. Let's not forget Kindle's vast library of eBooks, for those of you who still read. Apple has a great selection of movies music and books but their prices are way more expensive than what Kindle or Google has to offer.
Services
Do you use a lot of Google services? Are you a Google Maps fan? What about Apple's Siri or Amazon's Prime service? Depending on which services you use more, you will want to make your choice wisely. We won't spend much time with this but Kindle is built for spending time with movies books and TV shows. Google spend more of its time with information such as maps, navigation and the likes. On the other hand Apple leaves most of that up to third party developers. We can't choose a winner because it will depend on the user but think about what services you choose before picking up either of these.