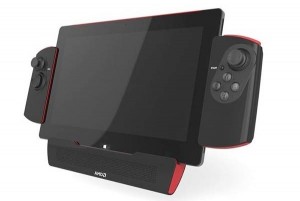 AMD announced that it's going to show a Windows 8.1 gaming tablet in CES this January.
It is called "Project Discovery", and has 64 Bit x86 architecture, using 28 nm chip, which can go down as low as 2 watts in energy usage. This enables fan-less, thin tablets. Tablet has a docking station, and has controllers on each side of the docking station.
Tablet market is crowded as hell, and there are many strong competitors. However AMD is trusting its experience with APUs – the GPU + CPU integrated CPUs which are selling like hotcakes since they were introduced.
Read more about the tablet here.